I've been participating in What I Eat Wednesday on and off for a while now, but I've realized that I really don't enjoy taking pictures of one day of eats. My food at work is unappealing and I don't feel comfortable taking pictures with anything other than my iphone at work and they never come out well.
So, instead of showing you one day of food, I'm going to show you what I've been eating for the past couple of days. I don't know if this counts as a true What I Ate Wednesday, but we'll go with it.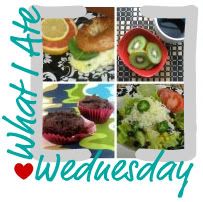 If I cook something, I pretty much always take a picture of it, but it doesn't always make it to the blog. So, it's sort of nice to do a What I've Been Eating post because some of this food was good and deserves to be shown.
I bought a big carton of mushrooms and really needed to use them up. For some reason, Cream of Mushroom soup came to mind. Sort of odd because I'm not much for cream based soups. I'd love to say that I changed my mind, but I'm still not one for cream based soups. I guess that's probably for the best, although this one used light cream and had okay nutritionals. I used this recipe.
I'm not sure how this happened, but I somehow promised my co-worker that I'd bake her cookies. Her daughter is deathly allergic to peanuts, so she can never have peanut butter or peanuts in her house. So, when I asked her what kind of cookies she wanted me to bring into the office, she quickly said peanut butter. I went with a Mama Pea recipe, always a crowd pleaser. My white sugar was all dried up so I ended up using all brown sugar. It made the cookies very moist, almost too so, but delicious nonetheless.
I don't know when I got obsessed with curry dishes, but I've been cooking them pretty much all year. I usually just throw together a bunch of stuff, but this time I used an actual recipe. It was pretty similar to the curry that I always make, only it used veggie broth and soy sauce instead of water and miso paste. Curry is always best with a side of warm naan, Trader Joe's Garlic Naan to be exact.
And that's what I've been eating. Posted on Wednesday.