It's been exactly one month since I got laid off. I can't believe it. Time really flies. I'm not even sure what I've been doing with myself besides applying for every job that I think I'm either qualified for or not qualified for but sounds interesting. The trips to Florida and South Carolina have made the month pass quickly too.
Once I got over the whole "woe is me, why did this happen?" thing, one of the main things that I worried about was mindlessly eating all day since I was in the house with not much to do. I mean, one of the main things besides worrying about my lack of income. It's been sort of surprise to me, but I find that I'm actually eating less than I was when I was in an office for 8 hours a day.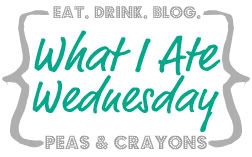 Here are yesterday's eats. Breakfast was something that I used to eat all the freakin' time but somehow fell out of rotation for a while. It sounds gross, but bear with me, it's good. I swear.
Cottage Cheese Bowl
1/2-3/4 cup low fat cottage cheese
1 tbsp peanut butter
1/2 banana sliced
1/4 cup raw oats
stevia to taste
Mix it all up and this is what you have. I also do this with yogurt which doesn't sound as gross for some reason.
Lunch was leftovers from Monday's dinner. This picture is of the actual dinner and was plated much nicer than my leftovers in Tupperware but you get the gist. This is Mama Pea's Curry in a Hurry
from her cookbook.
Afternoon snacks were pretty self-explanatory.
For dinner, we busted out Peas & Thank You again. I worked on the Thai Veggie Burgers (and subsequently burned them) while Jason made some baked potato rounds. I opted to eat my burger on a lettuce wrap so I could have more potatoes. Don't be fooled, what you see on my plate here is not all I had. Those suckers were good. I'm not sure what he coated them with.
I think that part of the reason that I'm eating better at home is that when I was at my job, I was looking to food as boredom relief. I didn't really have much that I could do to take a computer break besides eat a snack (it wasn't a particularly friendly office, I couldn't really go chat with anyone) so that's what I did. Now I just have to figure out how not to do that when I'm employed again. Hopefully I won't be so in need of boredom relief at my next job.